"When I paint or draw, I forget all about time and where I am – I'm completely consumed by my own thoughts for hours on end. It's like I'm dreaming."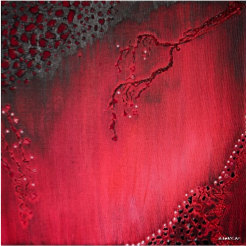 I love expressing myself with the brush, colours and pencils. The creative process helps me when I feel a little down – and if I'm in a good mood, it makes me even happier. At the end of 2014, I fell ill for a longer period. When I was in pain or was down, it was a wonderful relief to be able to sit for many hours working on my art.
I like to experiment. And I like to challenge myself to find out what I'm good at – and what I'm not so good at. The inspiration for my experimentation comes from nature, previous experiences, dreams – or just something I've seen. In the collage Perfection, for example, I had fun experimenting with glue and eggshells.
It's such a release for me to be able to express myself through my art. Mostly, I think through my creations before I start. There's always a thought behind it, so even though the canvas is white, my head is filled with brush strokes, illustrations and colours – and time flies as I put it all on the canvas.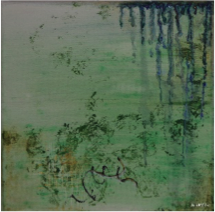 From time to time, I also paint abstract or partly abstract material, for example Mystery and The Light Side of Twilight. When I paint abstract, my feelings take over, and the brush strokes are an expression of my feelings, which creates the material.
In several of my paintings, such as The Black Tree and Sunset, you'll see black silhouettes – which represent me. It's not the main focus of the painting, but it's like an observer. It's how I've felt at times in my life when I've been most in pain. I hope you as a viewer can also relate to the black silhouettes – and that they help you enter into the painting so that you can play an active role in the life within the painting.
Other times, I think in colours and motives, such as an animal that I want to express. I've experimented with spray paintings and geometrical figures, Mandala drawings and different water colours. I love drawing and painting women, because the female figure is exciting – and it's challenging to illustrate it in different ways.
I've made many drawings of famous people – mostly for fun. But it's also quite hard to achieve the right likeness – but it's fun when the person I've drawn sees it and tells me what they think!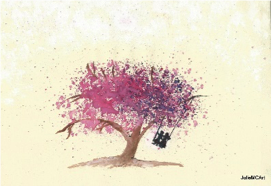 I believe it is important to have goals that are difficult to achieve. That's the main thought behind The Unachievable, where a black silhouette (again) is running after a balloon floating above her. I want the viewer to think about their own goals; whether they are unachievable or if you are on the right track. The Cherry Tree is all about hygge (something very Danish) and the idyllic life. Think about your own childhood as you reflect on the two silhouette children in the swing. We don't know their stories, but we can imagine what their childhoods might have been like – and we can think back to our own.
This was just some of my thoughts about what my work and how much my art means to me – and the great calmness it has brought to me. Quite simply, it is "When I paint, I dream."